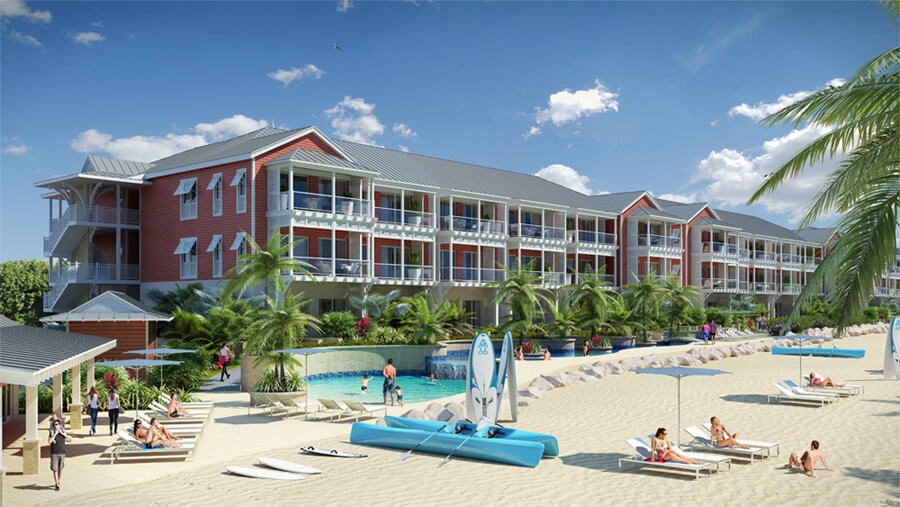 With waterfront views all around you, Catalina Bay epitomizes the Cayman lifestyle of living on the water! This truly unique location is right on the North Sound, with stunning views into the Caribbean Sea directly in front of you and the serene yacht basin of the award winning Barcadere Marina all around you.
A massive 800 feet of Sea frontage and a quiet cove in front, protected by a stone breakwater, is perfect for enjoying paddle boarding, kayaks, snorkeling, and swimming. This beachfront area has easy water access, cabanas, BBQ areas, heated Jacuzzi, and a very large 170 foot long freeform pool with waterfalls and separate kid's pool and play area.
There is also a waterfront Clubhouse with an outdoor BBQ kitchen, washrooms, storage lockers, and fully equipped gym. Ideal for facilitating private gatherings and relishing a luxurious life on the water.
The prestigious residences of Catalina Bay have so much to offer. At three storeys high, each generously sized waterfront 2 bedroom/2.5 bathroom or 3 bedroom/3.5 bathroom residence enjoys panoramic waterfront views of the entire North Sound. Back bedrooms look out to the tranquil yacht basin and fine yachts and boats.
The spacious interiors are finished to the highest standard and designed for energy efficiency and low maintenance, utilizing the best materials. There is a private covered entry. Patios and balconies are also covered. Ceilings are 10 feet high and for residences on the top floor, there are vaulted ceilings. An abundance of space and natural light pervades throughout.
Two elevators enable easy access to the upper floors. Underground utilities will include fiber optic telecom and internet. Owners will have two parking spaces, one of them covered.
Conceived and designed by the developers of the award winning Barcadere Marina, winners of the Governor's Award for Design and Construction Excellence, as well as the Governor's Commendation for Excellence in Sustainability and Environmental Responsibility. Catalina Bay will be constructed using the same environmentally conscious methods and respecting the same sensibilities.
Every owner receives a FREE BOAT SLIP FOR ONE YEAR right behind their residence. Simply walk out of your residence and into your boat! Owners will have easy access to all the facilities and services of the Barcadere Marina, including the George Town Yacht Club full service restaurant and bar, pool and play area, change room, event room and facilities, the Scotts Landing fuel station and convenience store, as well as Scotts Marine services, supplies, and boat yard.
Getting to your residence will soon be very easy and fast. The new Seven Mile Beach to Airport access road will take you from Camana Bay directly to the Barcadere and into Catalina Bay. This new road is currently under construction and will provide a direct route to Seven Mile Beach in minutes. George Town is equally easy and fast to access.
Whether for your permanent residence and a slip for your boat, vacation home, or investment property for some personal use and great rental income, Catalina Bay can offer you all of these options.
Really easy to buy in! You only need a 5% deposit on contract, 5% at the start of construction, and 5% due later on completion of the second floor slab. There are few better options to enjoy the Caribbean lifestyle, while capitalizing on a really good investment. Catalina Bay is exceptional!