Cayman's Reopening Plan
The Cayman Islands has just disclosed a plan for a 5 stage phased reopening of the country, in an effort to safely reopen for visitors and tourism.
For the last year, there has not been any COVID in our community and all Cayman residents have enjoyed a normal COVID-free life, with basically no restrictions. However, some businesses and residents have suffered, due to the lack of tourism, as the impact from this loss of business has been quite harsh.
Now having a concrete plan to reopen is encouraging and gives Cayman residents something to work towards. The plan is designed to limit the introduction of COVID back into our country, so the impact is as mild as possible and does not pose a threat to our vulnerable residents and visitors.
To date, no country has reopened their borders successfully. The Cayman Islands is taking a cautious approach, in order to be one of the first to do so, effectively. We are aware of the British Virgin Islands reopening just over a week ago with close to zero COVID cases and having 480 new cases in one week.
It should be noted that the plan to reopen is subject to an 80% vaccination rate for Cayman residents – currently, we are at approximately 69%. Measures are being implemented to reach this required herd immunity level, asap.
Below is the phased reopening plan: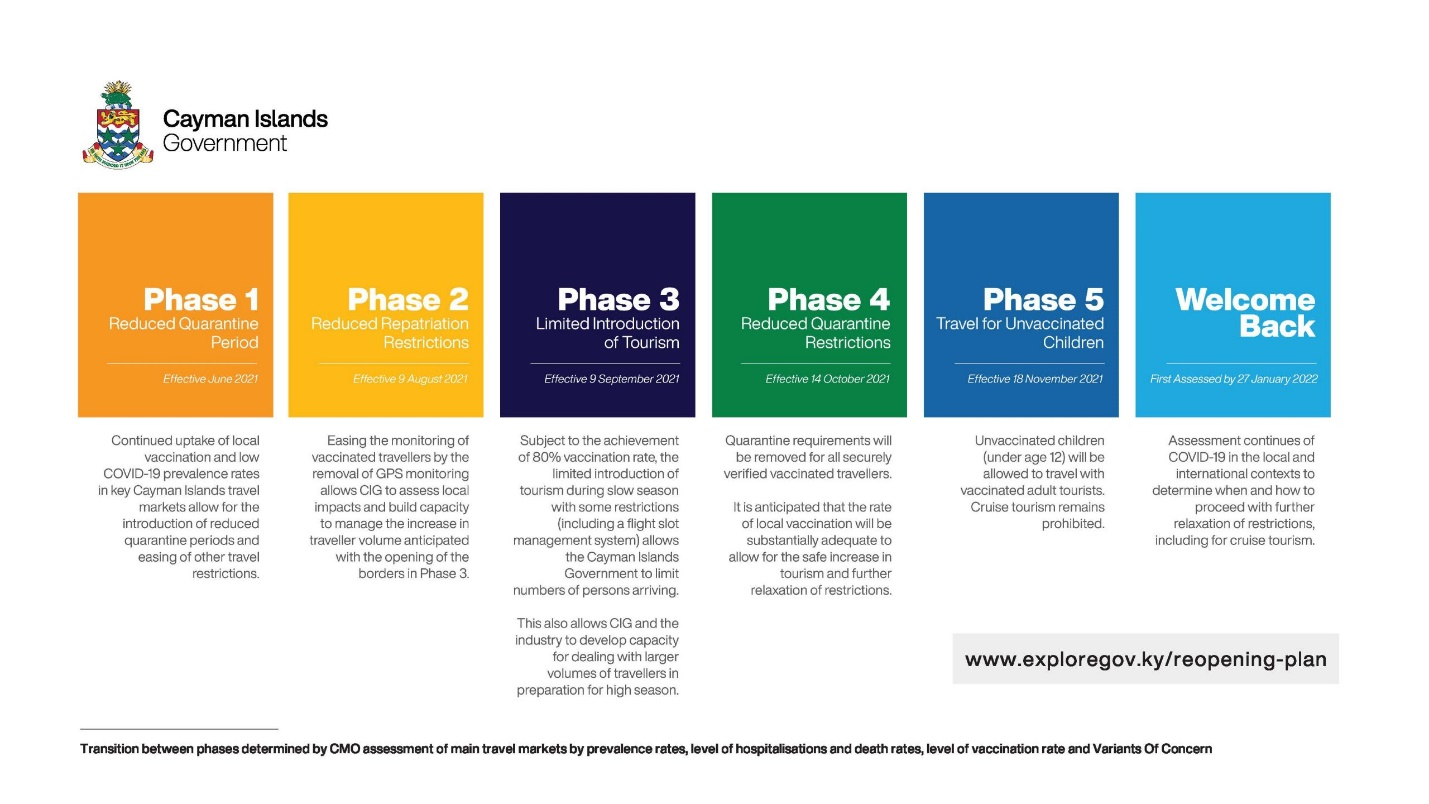 While the Cayman Islands anxiously looks forward to the opportunity to safely welcome back visitors and tourism, our real estate industry has been the fortunate beneficiary of the success that our country has had in protecting us from COVID. The real estate market has been booming over the last couple years from both local and overseas business.
Purchasers have realized that not only does Cayman provide a safe financial investment, but it is a safe domicile for one's personal health and safety. In a few year's time, we will have five state-of-the-art hospitals – two of them brand new. We already have three.
Our real estate market is experiencing a shortage of existing property available for sale and this shortfall will be exacerbated once we reopen. The pent-up wave of demand from visitors/tourists and new residents arriving later this year is substantial, as many customers have deferred their purchase decision until they arrive on island.
Although there are many pre-construction developments across Grand Cayman with completion dates over the next several years, a lot of these are already sold out or close to it. Fortunately, some of the residential developments have more than one phase, so some new inventory will still be coming available.
In the Seven Mile Beach area, there are currently 7 new resort/residential developments under construction or planned to start, next year – from the south end to north end, there is Kailani Hilton Residences, Grand Hyatt Residences, Aqua, Seacrest, Lacovia, Watermark, and Aqua Bay. Any of these that are currently under construction are either sold out or close to it.
As an investment, real estate in Grand Cayman will be one of the best, over the long term. The incredible infrastructural improvements planned for the country over the next 10 years will be unprecedented and drive strong capital appreciation. Every year, the Cayman Islands becomes a better place to visit and live.
Don't wait too long to make a good investment and buy into the Cayman lifestyle!